What Is Carpet Restretching?
Carpet is an integral part of any indoor space which provides comfort and aesthetics of a room. Carpet restretching refers to the process of tightening and strengthening carpets because as time goes on your carpet becomes loose and ripples start developing which is not good for the safety of both your family and carpets. Thus, to put your carpet in its original position or for restoring it, Carpet Restretching is used in which experts identify the affected areas and with the help of specialized carpet stretching tools, they stretch your carpets and tighten them. You can hire the best carpet restretching technicians in Melbourne at Melbourne Carpet Repair. We have better plans for making your rippled carpets look levelled again.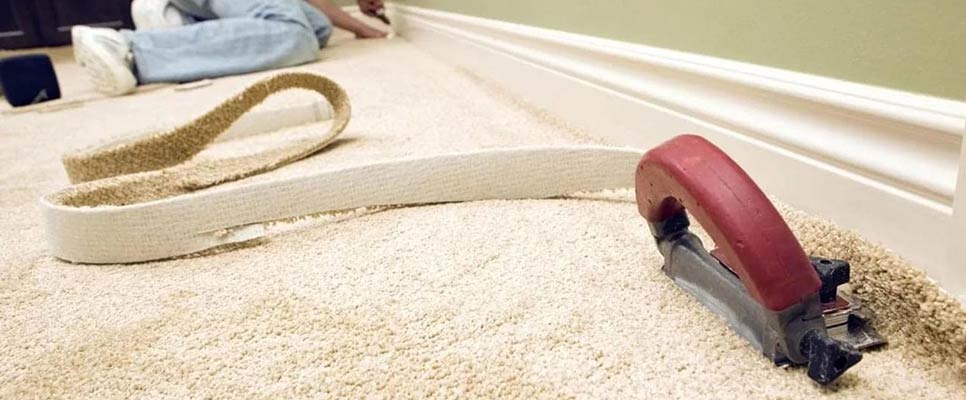 How do I know if my carpet needs to be restretched?
When you look and take care of your home carpets daily then if any changes occur there, you can mark them quickly. But if you are not sure about it then here are some of the signs which help you to get the correct decision.
Loosen carpets and carpet wrinkles: Due to the presence of excess moisture and putting large objects on the carpet, wrinkles may develop over it which ultimately loosens your carpet also and this can be treated with restretching.
Carpet pile: The quality and durability of a carpet can be determined with the help of pile height and face weight. Low pile carpet has short fibres which are easy to clean and durable as it can stand up a lot of foot traffic while high pile collects a lot of dust and debris and requires restretching.
Ripples in the carpet: There are many reasons for carpet ripple which include humidity, wet carpet, improper carpet installation, presence of heavy weight on the carpet and many more but you can overcome rippling only by restretching which can be done by our talented experts very well.
Bunching: If your carpet starts bunching from the ends then it is a warning sign that your carpet needs restretching.
Benefits Of Carpet Restretching
Carpet is among the most elegant things at your house entrance which either enhances the look of your house or destroys it. So you should be very careful about your carpet and also if it's healthy and safe. If it is not in good shape and condition then restretching is very important as it has a number of benefits which are given below:
Restores your carpet: After some years of use your carpet gets wrinkles and ripples and so restretching is done to restore your carpet to its original position and make it look like new.
Increase carpet durability: Due to heavy foot traffic or some other reasons, your carpet becomes loose through which it is ultimately going to be worn out and damaged. Thus, for increasing the life of your carpet, it is very important to restretch it.
Increases safety: Safety always comes first in our services and ripples and wrinkles are very bad. They may cause people to trip and fall and so restretching is very useful.
Saves replacement cost: Carpets are like an investment and you want to get a number of benefits and so when it gets loosened due to dust or microbes or for any other reasons and instead of replacing it, you can apply for our restretching.
Add value to your home or business: Because of restretching your carpet, it looks like new again which increases the overall aesthetics and charm of your hall or business returns and adds some value to it.
It is clear that carpet restretching has a number of benefits and you should hire professionals for it.
Carpet Restretching – What To Do About Wrinkles
Wrinkles may occur due to many reasons which are as follows:
Installing in cold weather with no central heating system.
Improper padding.
Over-wetting
High humidity and fluctuations in weather conditions
Delamination
If your carpet is wrinkled then you cannot leave them wrinkled for a very long period of time because if it leaves as it is then as time passes these ripples could become more severe and as a result, cause the carpet to crease. To overcome the above problems and to improve carpet appearance and safety, Carpet Restretching is the perfect solution. Restretching will not only treat the wrinkles present in the carpet but also prevents new wrinkles from forming and hence the life of the carpet is increased which also saves you money in the long run.
Restretching carpets requires various advanced tools and techniques which makes the process easy and consumes the least time and so it is satisfying to hire professionals rather than doing it themselves. If you want to DIY then you have to take these tools.
Our professionals offer the best service with some sort of guarantee and complete the whole process at a lesser cost. Thus, you can avail of our Carpet Restretching team for a complete process as and whenever you want in Melbourne.
Schedule Melbourne Carpet Repair Company For The Best Results
We understand that restretching a carpet is a very challenging task and so we provide a complete range of carpet services from installation to repair, stretching, patching, etc. Our team of certified experts first inspect your carpet about its fabric, the amount of loosening and wrinkling in it and many other things which are helpful for them to find the suitable treatment. After the completion of the process, we suggest you some preventive measures for taking care of your carpet in a proper way. Thus we are reliable and you can schedule us for all forms of carpet repair needs in Melbourne and its suburbs.
FAQs
Is it expensive to restretch carpet?
The cost of restretching carpet can vary depending on factors such as the size of the room, the type of carpet, and the complexity of the job. Generally, restretching carpet is a more cost-effective option compared to replacing the entire carpet. It is best to contact a professional carpet repair service in your area to get an accurate cost estimate based on your specific needs.
Can I restretch my own carpet?
While it is possible to restretch your own carpet, it is a task that requires specialized tools, knowledge, and experience to ensure a proper and professional result. It is recommended to hire a professional carpet repair service for restretching, as they have the expertise and equipment to complete the job effectively and efficiently.
Can carpet be stretched without removing furniture?
In most cases, it is necessary to remove furniture from the room before restretching the carpet. This allows for better access and proper stretching of the carpet. However, some professional carpet repair services may have techniques and equipment that allow them to stretch the carpet in certain situations without completely removing the furniture. It is best to consult with a professional carpet repair service to determine the specific requirements and options for your situation.