Superior Carpet Hole Repair Service In Melbourne
If your carpet has holes for any reason like a burn, pet damage, mould damage, stain damage or aging, and wear and tear, then you should call a professional immediately. Since it requires expert assistance. As a result, contact us right away to get it corrected. Here at Melbourne Carpet Repair, we offer the most effective carpet hole repair services.
If you place something hard on the carpeting for a long time, it will likely make a hole. Yes, that is a severe problem. But do not worry. Our services will assist you in getting rid of it quickly. There is no need to be concerned. Since we have found a solution. All you have to do is give us a call, and we will come out and fix it for you. We offer carpet hole patching service at a fair price.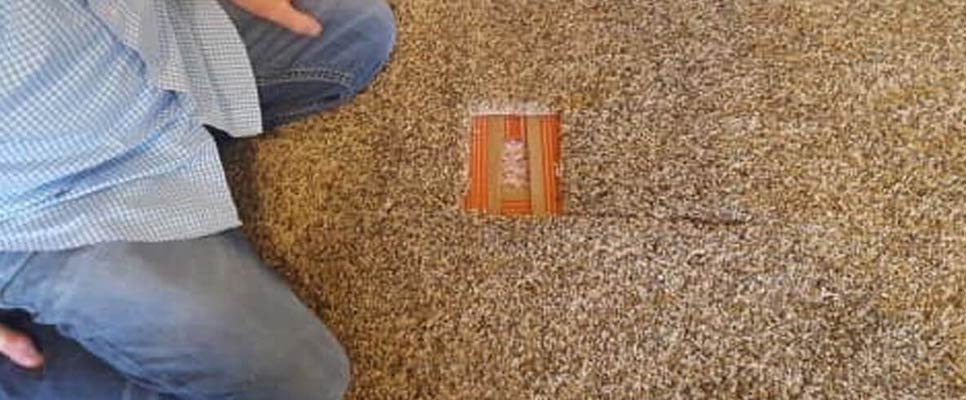 Sources Of Holes In Carpets
Do you have a hole in your carpet? Does it have more than one hole? Do you know its source? There are several common sources of holes in carpets, including:
Wear and tear from regular use and foot traffic
Damage from pets, such as digging or scratching
Burns from cigarettes or other heat sources
Stains from spills or leaks
Moths or other insects eat the fibres
Sunlight or UV damage
Poor-quality or cheap carpets
Improper installation or stretching
Moving heavy furniture or appliances
Using sharp objects on the carpet
Chemical damage from cleaning products or other chemicals.
Minor Or Major Carpet Holes: We Fix Them Effortlessly
At Melbourne Carpet Repair, we understand that carpet holes can be a major inconvenience for homeowners and businesses alike. Whether it's a small tear or a large hole, it can detract from the overall appearance of your carpet and make it look worn and damaged.
Our team of experienced technicians is equipped with the tools and expertise necessary to fix minor and major carpet holes effortlessly. We use high-quality materials and techniques to ensure that the repair is seamless and looks as good as new.
For minor holes, we use patching techniques that blend the repair seamlessly with the surrounding carpet fibres. For larger holes, we may use a piece of carpet remnant to repair the area, carefully matching the colour and texture of the existing carpet.
In addition to repairing holes, we also offer other carpet repair services such as re-stretching, spot cleaning, and dyeing to restore the overall appearance of your carpet.
Don't let carpet holes ruin the look of your home or business. Contact us today to schedule a repair appointment and let us fix them effortlessly.
Same-Day Service For Carpet Holes Fixing In Melbourne
If you have a hole in your carpet that needs immediate fixing, don't wait any longer! At our carpet repair company in Melbourne, we offer same-day service for all types of carpet holes. Whether it's a small burn mark or a large tear, we have the skills and equipment to fix it quickly and efficiently.
Our team of experienced technicians will assess the damage and determine the best course of action for the repair. We use high-quality materials and techniques to ensure that the repair is seamless and matches the rest of the carpet.
We understand the importance of having a functional and presentable carpet, which is why we offer fast turnaround times. Whether you need a repair in your home or office, we can have it fixed in no time. Contact us today to schedule your same-day carpet hole-fixing service in Melbourne.
Do Not Throw Your Carpets With Holes: Call Us To Fix Them
Instead of throwing away your carpets with holes, call our professional carpet repair experts to fix them. We have the tools and expertise to patch up holes and make your carpets look as good as new. Not only will this save you money on buying a new carpet, but it will also be more environmentally friendly. Don't let small holes ruin your carpets, call our professionals to fix them today.
FAQs
Can a hole in carpet be repaired?
Yes, a hole in a carpet can typically be repaired. The success of the repair depends on the size and severity of the hole, as well as the type of carpet and the expertise of the repair technician.
What is the best way to fix a hole in carpet?
The best way to fix a hole in a carpet is by patching it. Here is the general process:
Assess the size and shape of the hole to determine the best patching method.
Cut out a patch from a matching piece of carpet, ensuring it is slightly larger than the hole.
Remove the damaged section of the carpet, making sure to cut along the same shape as the patch.
Apply carpet adhesive or double-sided carpet tape around the edges of the hole.
Place the patch into the hole and press it firmly into the adhesive or tape.
Use a carpet brush or your fingers to blend the patched area with the surrounding carpet fibers.
Can you patch a section of carpet?
Yes, it is possible to patch a section of carpet. This technique is commonly used to repair small to medium-sized areas of damage, such as burns, stains, or holes. The process involves cutting out the damaged section and replacing it with a matching patch of carpet using adhesive or carpet tape.
Please note that the success of repairing a hole or patching a carpet depends on various factors, including the expertise of the repair technician and the availability of matching carpet materials. It is recommended to seek professional assistance from a reputable carpet repair service to ensure a high-quality and long-lasting repair.